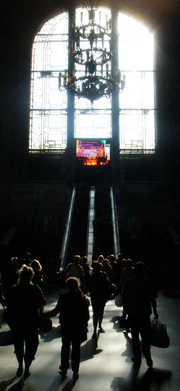 Many of the world's biggest airports have full time faith representatives; priests, imams, rabbis. I've drawn such a person as the central character in A Burning in The Darkness. Michael Kieh is a Roman Catholic priest who grew up in the West African state of Liberia. His childhood was moulded in the horrors of the Liberian civil war, but the man cast from such events is committed to doing good. Nevertheless, trauma slithers under the surface like a serpent under ice. At thirty three years of age Michael is having doubts about the life he has chosen. Added to this is his role as priest in an unimaginably large parish that is utterly transient. Of the tens of millions of passengers who pass through the airport each year he will rarely get to meet anyone twice. He is an African in a Western airport, a long way from home.

Most airports have a prayer room; a peaceful place to gather your thoughts. Maybe journeys to new places create a desire for new beginnings. These journeys can embody renewal, whether it's a simple holiday or starting out on an entirely new life. They can be an escape from bad things or a leap into taking a chance on a new love or career. Maybe you are leaving behind a life you know to be good, but you want the excitement of different possibilities, even if there is a chance it will be destructive. Airports symbolize a feverish restlessness.

So, in this massive cathedral to travel, there is a prayer room and a priest called Father Michael Kieh. It is unlikely there would be a confessional in a British Airport, but this story begins with a tiny axiom: what if there was a confessional box in one of the biggest airports in the world? What might happen? What are the stories it could reveal?


---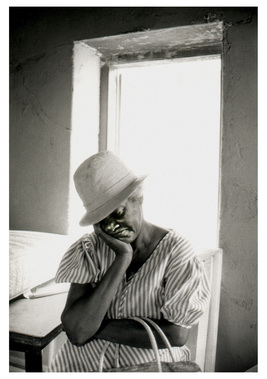 I mentioned in my brief biography that I studied photography and the page entitled 'Montserrat' is an extended photo-essay that I did when I was a student. Hopefully it gives a flavour of me, but more importantly, the island and its people.

I visited the island of Montserrat, a tiny British Overseas Territory in the Caribbean in 1988. I revisited the island a year later in 1989, about six months after the island was badly hit by hurricane Gilbert. However six years later in July 1995, the Soufrière Hills volcano erupted and destroyed most of the main habitable areas, including the principle town, the airport and docking facilities. Two thirds of the population was forced to leave, mainly to the UK.

All of the photographs were taken before the volcano erupted and record the parts of the island that would be ravaged by the volcano, so there is a poignancy to these photographs because they capture a world now lost.

Please let me know if you'd like a free copy of one of the photographs. Use the contact page to send me a message. If you print it on good quality photo paper you should get a good 18 x 30cm print. Each one is numbered. (P.S. You don't have to buy a copy of the novel but it would be great if you did! And please leave a review if you do buy one.)

---
---
---